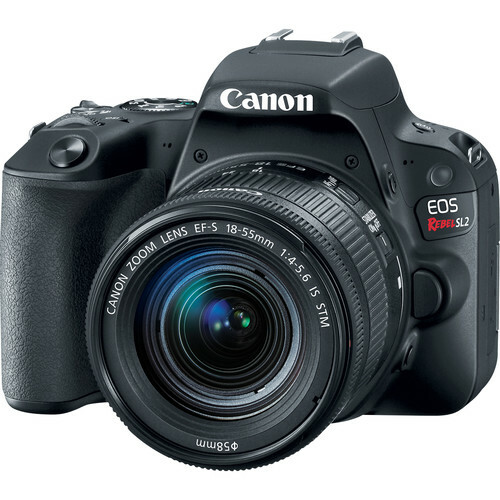 Canon EOS Rebel SL2 24.2 MP Digital Camera - Black (EF-S 18-55mm)
Quick Overview
With a compact and lightweight body, the black Canon EOS Rebel SL2 DSLR Camera provides users with a fully-featured system that won't weigh them down. Packed into the tiny body is a capable 24.2MP APS-C CMOS sensor and a DIGIC 7 Image Processor, both of which work together to create sharp, vivid images at native sensitivities up to ISO 25600 and extended sensitivities up to ISO 51200. Video shooting has received a boost with Full HD 1080p recording possible at up to 60 fps. The SL2 also manages some significant body upgrades, with the main addition being a 3.0" vari-angle touchscreen LCD for intuitive operation and the ability to work at odd angles with relative ease.As a DSLR, the SL2 obviously retains the optical viewfinder for fast, natural composition of your images and it can shoot continuously at speeds up to 5 fps. This setup also features a 9-point AF system for capturing tack sharp images. If you are working in Live View or shooting video, the SL2 does offer Dual Pixel CMOS AF technology, providing fast, accurate focusing in these modes and with intuitive control via the touchscreen. Additionally, the SL2 has a microphone input for higher quality audio recording during movie shooting.
Please see the full details below ...
Quick Guide for this page
You can interact for this product with the following features inside this page. The following are:
(1) Discussion form below
(2) Post comments if a product article is available in the "Article" tab below
(3) A feature to add your own product review in the "Reviews" tab below
(4) Detailed comparison to related products through the "Compare to related products" button on the left
(5) Quick comparison to related products through the "PRODUCTS TO COMPARE" slider below
(6) Take a glance with the product advertisement in the "Advertisement" tab below (if available)
(7) Have a look with the product news in the "News" tab below (if available)
(8) Consider the product testimonials in the "Testimonials" tab below (if available)
(9) Convert amounts to your preferred currency by clicking the "Money Converter" button above
Participate here
Leave a Discussion about this product
Customer Reviews
No Amazing Reviews Yet...
No Excellent Reviews Yet...
No Good Reviews Yet...
No advertisement page yet ...
No testimonials for this product yet ...