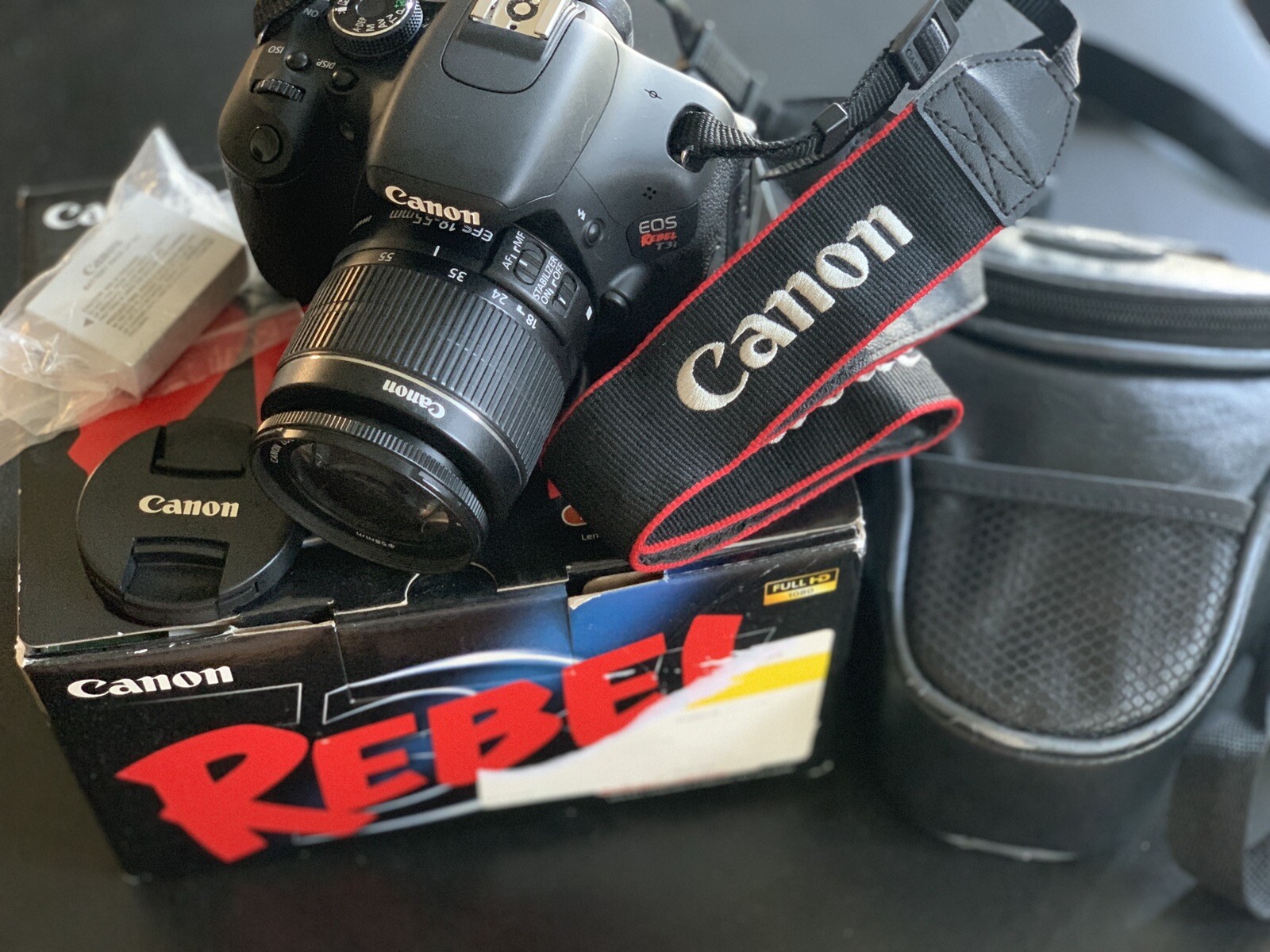 Canon EOS Rebel T3i 18.7 MP Digital SLR Camera - Black (KIt with EF-S 18-55mm f/3.5-5.6 IS Lens)
Quick Overview
Capture your world and everyone in it in stunning detail with this Canon EOS Rebel T2i digital SLR camera. This camera shoots photos at an amazing 18 megapixels, so every shot turns out crisp, clear, and detailed. The unit's onboard 3-inch monitor lets you quickly see what's in focus so you can take the best photos. This monitor works well whether shooting action on the soccer field or snapping photos of your child's birthday party activities. The camera's high ISO sensitivity lets it capture your photos, even in low-light conditions or on cloudy days. Thanks to the camera's USB connectivity, you can connect it to your PC to store and archive your pictures. This Canon EOS T2i DSLR camera was released by Canon in 2012 and sports a sleek black body with an easy-to-hold grip. When focusing this Canon DSLR, you can choose to do so with the autofocus feature or manual focus. The autofocus technology offered with this Canon T2i camera provides eight modes that ensure great image quality. Some of these include live view, face detection, phase detection, and contrast detection. With the inclusion of an LP-E8 rechargeable battery in these DSLR cameras, it should take about 450 photos between charges. The camera weighs just 1.25 pounds, making it easy to carry around on long photo shoots. The EF-S lens with these DSLR cameras is a standard zoom lens with a 3x optical zoom and 10x digital zoom. In general, this Canon EOS T2i camera is compatible with all Canon EF and EF-S lenses. The specific IS II lens that comes with this device has a focal range of 18mm to 55mm. These focal lengths allow you to use this EOS Rebel digital camera for any type of photography.
Please see the full details below ...
Quick Guide for this page
You can interact for this product with the following features inside this page. The following are:
(1) Discussion form below
(2) Post comments if a product article is available in the "Article" tab below
(3) A feature to add your own product review in the "Reviews" tab below
(4) Detailed comparison to related products through the "Compare to related products" button on the left
(5) Quick comparison to related products through the "PRODUCTS TO COMPARE" slider below
(6) Take a glance with the product advertisement in the "Advertisement" tab below (if available)
(7) Have a look with the product news in the "News" tab below (if available)
(8) Consider the product testimonials in the "Testimonials" tab below (if available)
(9) Convert amounts to your preferred currency by clicking the "Money Converter" button above
Participate here
Leave a Discussion about this product
Customer Reviews
No Amazing Reviews Yet...
No Excellent Reviews Yet...
No Good Reviews Yet...
No advertisement page yet ...
No testimonials for this product yet ...